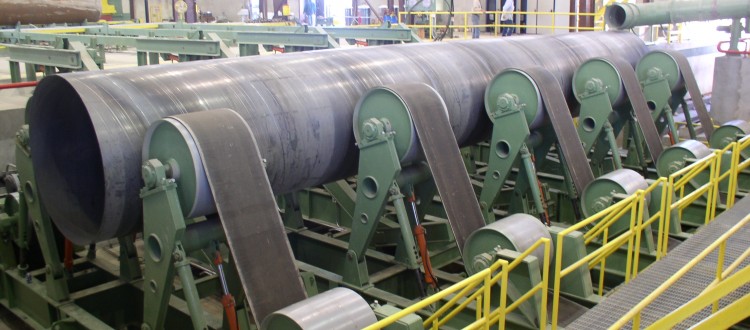 PRD's Cement Lining System provides pipe to convey drinking, waste, raw, industrial, and fire-fighting water.  This lining provides tough protection and offers a maximum constant service temperature of 80°C.
Cement Lining Process
1.Surface cleaning
2.Mortar application
3.Mortar tightening
4.Curing
Production Specifications:
Surface Cleaning
All pipe surfaces to be lined are cleaned to remove scale and rust to ensure a secure bond with the cement.
Mortar Application
The mortar is applied through a nozzle located on the end of a boom.  A special concrete pump transfers the mortar to the nozzle. As the pipe rotates, the boom moves throughout the length of the pipe evenly distributing mortar. Following the mortar application, the pipe rotation speed is increased to provide high compaction and surface smoothness.
Lining Specification
Cement adapted to final application
Sand is siliceous and free of organic matter
Clean mixing water
Sand/cement ratio of 1.0 – 1.2 per application
Dry specific weight of >/= 2,200 kg/m³
Final appearance is smooth
Thickness from 6 – 25 mm
Standards Compliance
PRD's cement lining system products pipe complying with AWWA C 205, BS 534, and other specifications.