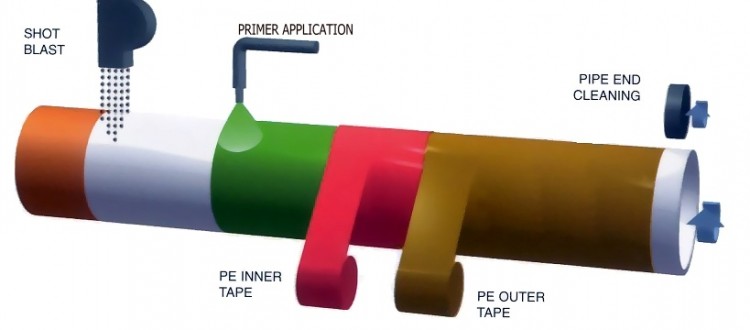 POLYETHYLENE TAPE COATING & WRAPPING
PRD's Polyethylene Tape Coating Systems offer an alternative to PE extrusion coating. The system produces pipe with ciatings for conveying industrial, raw, waste and drinking water.
An Epoxy primer bonds the steel to the adhesive layer. The inner PE adhesive layer offers corrosion protection and tightly bonds to the outer PE coating. A final spiral wound layer of fully stabilized PE coating has the rugged mechanical properties to protect pipe during handling, storage, and pipeline construction.
Coating and Wrapping Process
THE PROCESS:
Pipe Cleaning:
Pipes are pre-cleaned for removing the oil, grease, mill scale, moisture and other foreign material by solvent cleaning and/or flame heating methods.
Pipes are cleaned by blast cleaning unit using grit and/or shot abrasive for obtaining Sa 2 ½ degree surface cleanliness and blast profile with anchor pattern between 40 – 80 microns.
Application :
Application has three continuous operations, as follows :
The primer is applied by airless spray system to cover the entire pipe surface in uniform film thickness.
The intermediate tape is applied spirally with overlap and tension directly onto the  primed pipe surface by mechanical wrapping equipment.
The top tape is applied over the intermediate tape using the same type of  mechanical equipment used for  the intermediate tape.
The top layer is applied at the same time as intermediate layer.
Cut-back :
The coating from pipe ends are removed by unwrapping the intermediate and top layers together manually immediately after coating process is completed.
The cut-back area is minimum 150 mm and cut-back has straight edge for the total thickness of the coating.
Coating Repairs:
The coated areas damaged are repaired by peeling back and removing the layers from damaged area.
The area is brushed with primer.

Option 1 – Intermediate tape layer is wrapped around the pipe to cover the damaged area.
Option 2 – Patch of intermediate layer is applied directly to the damaged area.

The repaired area is re-tested with a manual holiday detector.  If coating can pass the test, then the repaired area is covered with top tape layer.