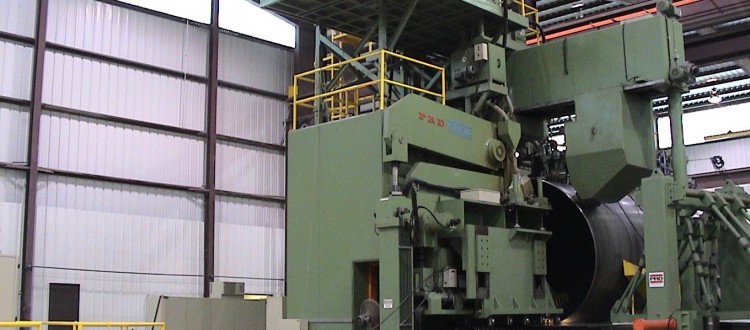 SPIRAL WELDSEAM PIPE MACHINE (SWPM)
PRD Company has responded to the needs of pipe producers since 1961. Today PRD Mills offer greater levels of manufacturing versatility — lowering the cost of producing pipe while increasing product offerings.
The New Generation Spiral Weld Mill designs can provide pipe diameters from 200 to 4200 mm, with wall thicknesses ranging from 2 to 25 mm and pipe lengths up to 30 meters.
PRD s versatility adapts to a diverse market. Customized solutions include the capability of a single pipe manufacturing factory typically producing:
"400 mm diameter slurry pipe for ash, coal, phosphate, etc. (conveying within water)
"600 mm diameter pipe for oil/gas (API) transmission
"800 mm diameter pipe for piling (foundation stabilization), structural support, bridges, towers, caissons, etc.
PRD Spiral Welded Pipe
PRD has chosen to use the spiral method of forming tubular products because of the flexibility of the process.  Spiral pipe can be made from a variety of raw materials, such as carbon steel, galvanized steel, stainless steel, aluminum, and coated metals.  A wide range of diameters can be made from almost any width of raw material, and as a result, inventory requirements can be reduced.
Because of our "free forming" method of pipe spiraling, additional tooling or separate mandrels for each diameter of pipe are not required.  Minimum changeover time is required for diameter change.
The production output speeds vary according to the type and gauge of the material being used.  PRD Spiral Pipe Mills produce smoothwall weldseam pipe for water pipe (AWWA), slurry pipe, line pipe (API), and structural pipe; and spiral lockseam pipe for less severe applications.
PRD s unique, internationally good reputation in the field of quality machinery is further protected by various patents.  In an effort to satisfy our customer's needs for maximum performance, we are continually improving and upgrading our designs.  Total system responsibility is accepted for the manufacturing of quality products.
Free Forming Systems
On March 21, 1972, Pacific Roller Die Company, Inc. (PRD) received U.S. Patent No. 3,650,015 for method and apparatus to manufacture spiral weld-seam pipe. This Patent is the foundation for PRD s proprietary technology. PRD utilizes the proprietary "Free Forming" System to form the spiral pipe from coils of carbon steel and other metals
A plurality of rolls are lined up with the helical direction of the steel strip from the coil and the strip is formed into a geometric tubular shape based on the width of the strip and the helical angle of entry into the pipe forming apparatus.
With high quality steel strip and an experienced operator, PRD s "Free Forming" System makes the best quality welded pipe in the world with very little scrap.
Competitive pipe making systems for high quality pipes utilize external and/or internal forming devices to push the strip into the desired pipe diameter. Pushing to form the pipe created stresses in the pipe. In high yield pipes, these stresses created by pushing become very important and can dramatically affect the long term performance of the pipes under working pressures.
Spiral pipes or pipes such as longitudinal pipes which are pushed into final shape will not be straight and uniform and welding is required to hold the pipe together. Typically these pipes will not be round or the correct diameter and typically require additional pushing with pipe body sizing.
In contrast, pipes formed with PRD s Free Forming System will be very uniform and straight even without being welded. Little or no stresses have been introduced in the pipes formed with PRD s Free Forming System.
There are also other distinct advantages to PRD s Free Forming System:
Free Forming Systems allows for a large range of pipe diameters at minimal additional cost; PRD s pipe diameter range is from 219mm to 3692mm.
Free Forming Systems greatly decrease the change over time. The change over time with PRD Free Forming System is between two to eight hours depending upon the pipe product and diameter.
World-Wide SWPM
| Company | SWP Location | Max.Diameter | Year |
| --- | --- | --- | --- |
| Roscoe Moss Co | California,USA | 1500mm | 1967 |
| Syracuse Tank | New York, USA | 2400mm | 1967 |
| L. B. Foster Co | West Virginia, USA | 2400mm | 1971 |
| L. B. Foster Co | Texas, USA | 1800mm | 1974 |
| L. B. Foster Co | Georgia, USA | 1800mm | 1976 |
| Natural Gas Tubes | South Wales, England | 1800mm | 1976 |
| Tumex | Pachuca, Mexico | 2400mm | 1978 |
| Continental Pipe | Utah, USA | 3000mm | 1980 |
| S.I.M.E.T | Bizerte, Tunisia | 1500mm | 1981 |
| Naylor Pipeco | Illinois, USA | 1800mm | 1982 |
| Tumex | Pachuca, Mexico | 2400mm | 1982 |
| Roscoe Moss Co | California, USA | 1200mm | 1984 |
| Georgia Tubular | Georgia, USA | 2000mm | 1987 |
| Noksel | Iskenderun, Turkey | 2400mm | 1988 |
| Noksel | Iskenderun, Turkey | 3000mm | 1988 |
| Pennsylvania Tubular | Pennsylvania, USA | 2400mm | 1989 |
| PA Pipe Inc | Pennsylvania, USA | 1800mm | 1990 |
| Radjin Steel Pipe | Surabaya, Indonesia | 3000mm | 1991 |
| Hydro Conduit Crop | California, USA | 3900mm | 1991 |
| Swarna Baja Pacific | Jakarta, Indonesia | 3000mm | 1991 |
| Kalup Crop | Tehran, Iran | 3000mm | 1992 |
| Shanghai Pacific Pipe | Pudong Area, China | 1800mm | 1993 |
| Data Steel Pipe | Karachi, Pakistan | 1500mm | 1995 |
| Best Tech & Eng. Ltd | Bangkok, Thailand | 2000mm | 1996 |
| CBI Services, Inc. | Washington, USA | 1200mm | 1996 |
| Ameron Concrete & Steel Pipe Group | Etiwanda, California, USA | 7/8″ x 60″ Strip, Up to 168″ | 1997 |
| Brastubo Constrcoes Metalicas S.A | Sau Paulo, Brazil | 1/2″ x 36″ Strip, 3000mm | 1998 |
| Shandong Electric Power International Corp | People s Republic of China | 2mm x 48″ Strip to 63″ | 1999 |
| American Railcar Industries, Inc | Marmaduke, Arkansas, USA | Spiral Mill | 1999 |
| American Cast Iron Pipe Company | Birmingham, Alabama,USA | 3/8″ x 1″ Strip, 24″ to 144″ | 2000 |
| Hanson Pipe & Products, Inc. | Grand Prairie, Texas, USA | 47″ x 60″ Strip, 32″ to 124″ | 2003 |
| Skyline Steel LLC | Iuka, MS, USA | 2000 mm strip; 1″wt. up to120″ | 2006 |
| Trinity Products, Inc. | MO, USA | 2000 mm strip; 1″wt. up to120″ | 2007 |
| Gregorian International | Venezuela | 2000 mm strip; 1″wt. up to120″ | 2007 |
| Erciyas Pipe, Turkey (Off-line upgradeable) | Turkey | 2000 mm strip; 1″wt. up to 64″ | 2008 |