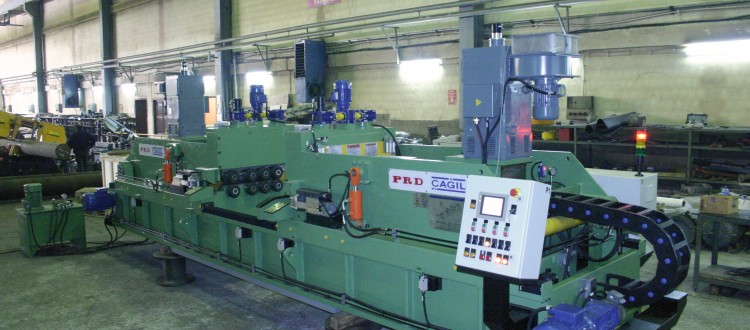 HORIZONTAL EDGE MILLING MACHINE (HEMM)
PRD Horizontal Edge Milling Machines are specifically developed for Spirally Welded Pipe Manufacturing Systems to improve weld quality, reduce scrap material percentage and speed up the pipe production rate. It allows the end user to cut X and Y profiles without head change. A real improvement over conventional Cutting, Slitting and Milling assemblies provided other the SWP Machines, HEMM s bring the advantages of more compact design, economical operation and fully computerized controls to the pipe manufacturing process.
The range covered with PRD HEMM s are:
Coil Strip Width: 700 mm to 2100 mm
Material Thickness: 6 mm to 29 mm
Material Grade: Up to X 80
Welding Profile: X and Y
Technical Characteristics of HEMM's are:
Cutter Diameter & Cutting Tip Form: 630 mm, 3 x 24 Cutting Tips
Milling Depth: Max. 25 mm
Milling Power: 2 x 55 kW AC
Spindle Speed: Infinitely variable between 60 to 160 rpm by Vector Controlled Inverter
Main HEMM components are:
"Main Body Structure with Strip Adjustment
"Milling Units with Height Copying
"Chip Conveyor
"Electrical and Hydraulic Systems
"Control Panel
MAIN BODY STRUCTURE with STRIP ADJUSTMENT
The main body is a torsion-resistant welded construction with slide ways to guide the strip into milling stations. For different strip widths, machine settings are achieved by hydraulic motor driven gearboxes actuating ball screws for milling head adjustments.
Positioning of the milling units are monitored on the control panel with 0.05 mm accuracy.
MILLING UNITS with HEIGHT COPYING
Milling units are positioned on the main slides which allows easy moving of the heads. Three upper supports are provided for height adjustment with respect to cutting axes, while the lower supports are provided for edge copying. At the same time, both supports hold the strip tightly for smooth machining. Upper roll positioning can be monitored on the control panel.
CHIP CONVEYOR
To remove the chips from the milling unit, a chip conveyor is provided under the milling unit in the main body.
ELECTRIC and HYDRAULIC SYSTEM CONTROL PANEL
A touch-screen control panel is provided for the machine controls and continuous monitoring of the milling process. The cutting speed is set by the PLC system with respect to the input values such as material grade, thickness and strip speed. Direct signal transfer between the main operator panel of the SWP machines is enabled which provides emergency shut off in case of unexpected data received.
World-Wide HEMM
| Company/Location | Year |
| --- | --- |
| Perusahaan Dagang Dan Industri /Surabaya, INDONESIA | 1996 |
| American Spiral Weld Pipe Co., /Columbia, South Carolina, USA | 2000 |
| Northwest Pipe Company /Adelanto, California, USA | 2001 |
| Northwest Pipe Company /Denver, Colorado, USA | 2001 |
| Continental Pipe Manufacturing Company Pleasant Grove,/Utah, USA | 2002 |
| Hanson Pipe Co. /Dallas, Texas, USA | 2003 |
| Sidergica de Tubo Saldado, SA / Spain | 2005 |
| Skyline Steel LLC Iuka,/ MS, USA | 2006 |
| Trinity Products, Inc.,/ MO, USA | 2007 |
| Ameron Water Transmission Group, /CA, USA | 2007 |
| Gregorian International, / Venezuela | 2007 |
| Tubesa, S.A. de C.V. / Mexico | 2011 |
| Fabricaciones Industriales Tumex, Tecamac, / Mexico | 2014 |