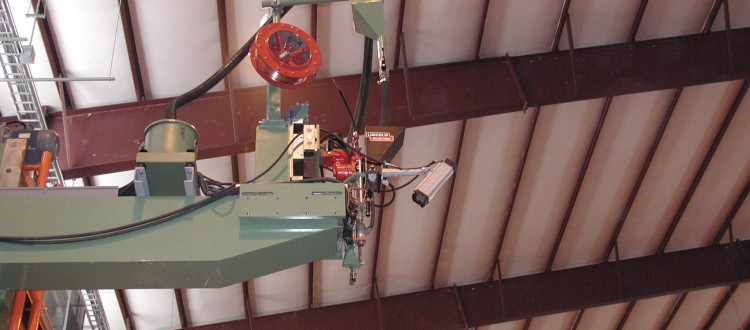 CROSS SEAM WELDING MACHINE (CSWM)
PRD Cross Seam Welding Machines, are specifically developed for Spirally Welded Pipe Mills for manufacture of pipe to meet API standards for strip joining. These machines reduce the outside welding time on the joint, resulting in increased overall productivity and efficiency of the mill.
The range covered with PRD CSWM s are:
Diameter 609 mm to 3 048 mm
Pipe Length 6 m to 25 m
Material Thickness 9 mm to 25 mm
Material Grade Up to X 80
PRD CSWM s are equipped with PLC and PC controls which enable the machine to start in "learn mode" then continue the welding process in automatic operation as long as pipes of the same characteristics are being produced.
Standard equipment on the CSWM includes an Urhan & Schwill welding system complete with flux recovery unit. Different system components are available at the request of the customer.
Main CSWM components are:
• Welding Column
• Welding Systems
• Cross Seam Positioning and Transport Cart
Welding Column
The welding column with 2,000 mm horizontal movement and 1,700 mm vertical movement is designed and constructed to be sturdy and rigid. The column is so designed that during the welding process it moves along the axes of the pipe.
Welding Systems
The welding torch holder is designed to follow and copy the surface of the pipe, provided that the spiral welding seams do not cause the misalignment of the torch at the ends of the cross seam.
Cross Seam Positioning and Transport Cart
During the welding process, pipe is rotated and carried along by means of a pipe transport cart. All movement of the cart itself and the welding column are provided by means of servo motors which ease the utilization of the PLC + PC System.
When the pipe data is input into the system through the PC control, the welding path is calculated automatically and the welding process starts.