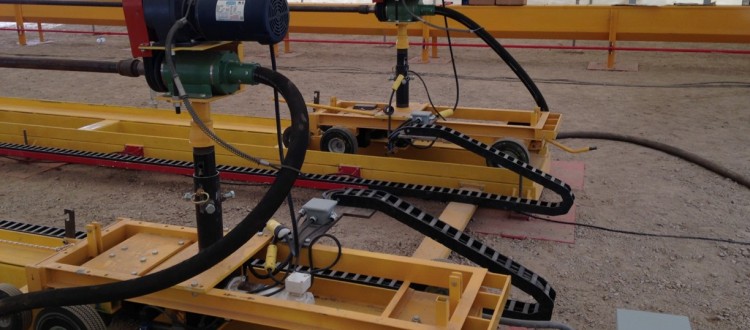 Pacific Roller Die Company, Inc., world leader of large diameter pipe manufacturing technology, has the additional product line of PRD-Blast internal pipe blasting and coating systems. The self-propelled rotary stripping system is engineered to rapidly clean pipe interior surfaces down to the white metal without requiring personnel to enter the pipe.
"Like a white tornado in a pipe, PRD-Blast cleans pipe easier, faster, and more economically than any blast-pot operation," said Daniel D. Freitas, PRD Manufacturing Manager. "The system lowers labor and equipment costs as much as 75%, saves time with 360 degree rotary blasting, reduces hazards with remote controlled operation and eliminates human error commonly found with hand blasting."
Saves time by rotary blast cleaning the full 360 degrees inside of pipe surfaces with self-propelled forward or reverse motion
Lowers labor costs as much as 75% compared with manual blast-pot operations
Eliminates inconsistencies commonly found with manual blasting
Reduces hazards with remote controlled operation
No down-time with PRD-Blast TM extremely reliable operation
Adapts for various blast media and coating applications
Adapts to blast pipes clean to white metal or required specifications in a wide range of diameters
Applications to clean internal pipes, windmill tower fabrications, vessels, tanks, penstock, tanker trucks and metal containers with minimal set-up
PRD-Blast systems consist of a self-propelled cart, remote controls, rotary head, and rotary diffuser with two-three nozzles. As the self-propelled PRD-Blast system travels through the metal pipe, rotating nozzles blast the surface clean. With the same working principle PRD offers machines for painting/coating applications.
PRD-Blast and painting systems are available for drive-through operation on pipes from 10 inches to 31+ feet (254 mm to 9 m) in diameter. Utilizing PRD's Lance Centering Tools, a lance system operation can be specified for smaller diameter pipes of 3.5 inches to 22 inches (90 mm to 560 mm).
The patented rotary self-propelled units reduce project equipment costs by eliminating expensive scaffolding, multiple blast pots, multiple air compressors and hoses. Using only two to three men to operate, the PRD system reduces labor costs substantially over blast-pot operations requiring a dozen men.
Pacific Roller Die Company, Inc. manufactures spiral weld seam and lock seam pipe manufacturing systems in addition to coating and lining systems. The Company has well over 200 systems worldwide and provides technical and professional assistance for planning, manufacturing, sales and marketing.
Tractor application

Model

Dia. Range (mm)

Average Cleaning Rate sq. ft / hr

Head Rotation RPM

Air pressure PSI

Air Requirement CFM

For Abrasive
Blasting

 

 

 

 

 

 

1624 BL

16″ to 24″
Ø (400 to 600 Ø)

1,500 to 2,500 

30-55

80 -110 

500 – 800 

101-A

24″ to 72″
Ø (600 to 1,800 Ø)


1,500 to 2,500

30-55

80 – 110

600 – 800

101-C

4′ to 12′ Ø (1,200 to 3,600 Ø)

2,000 to 3,000

80 – 150

1,100 – 1,300

101-B

6′ to 32′ Ø (1,800 to 9,500 Ø)

For Painting /
Coating

 

 

 

 

 

 

1624 SP

16″ to 24″
Ø (400 to 600 Ø)

1,000 to 3,000

variable 

 60 – 110 

 40 – 70

201-A

24″ to 72″
Ø (600 to 1,800 Ø)


 Up to 4,000

 variable

 60 – 110 

40 – 70

201-C

4′ to 12′ Ø (1,200 to 3,600 Ø)

 4,000 to 5,000

 variable

 60 – 110 

50 – 100

201 B

6′ to 32′ Ø (1,800 to 9,500 Ø)

 4,000 to 5,000

 variable

 60 – 110 

50 – 100

Lance Centering Tool

101-A, 201-A

6″ to 22″
Ø (150 to 560 Ø)

–

–

–

–

Mini-Lance Centering
Tool

101-A, 201-A

3.5″ to 6″
Ø (90 to 150 Ø)

–

–

–

–

Outrigger Support
Package

101-C, 101-B, 201-C,
201-B

up to 16′ Ø (4,880 Ø)

–

–

–

–